Indias Opportunities and Contributions to solar energy
powernsun
In the last few years, solar energy has had a significant impact on the Indian energy landscape, providing millions of people in rural areas with decentralized and distributed applications for their cooking, lighting, and other energy needs. This has resulted in a reduction of drudgery among rural women and girls who had to collect fuel wood from long distances and cook in smoky kitchens, minimized the risks of contracting lung and eye ailments, generated employment at the village level, and ultimately improved the standard of living and created opportunities for economic activities at the village level. Furthermore, solar energy has become a major contributor to grid-connected power generation capacity in India, supporting the government's agenda of sustainable growth while playing an essential role in meeting the nation's energy needs and ensuring energy security.
Solar power deployment in India
The Government of India is taking steps to promote solar power deployment in the country. In June 2021, the Ministry of New and Renewable Energy (MNRE) announced a new scheme, the Solar Rooftop Investment Program (SRIP), to provide financial incentives to encourage the installation of rooftop solar systems. Additionally, the government has also announced plans to set up a National Solar Mission, which will focus on increasing solar power generation capacity in India.

To reduce the cost of solar power, the Ministry of Power announced a new policy in June 2021 that will reduce the cost of solar power by up to 20 percent. This policy will be implemented through a competitive bidding process and will be applicable to all solar projects commissioned after April 1, 2022.
Overall, India is making significant progress in its efforts to increase solar power deployment in the country. With the right policies and incentives in place, India is well on its way to becoming one of the leading countries in terms of solar power deployment by 2023. Renewable energy penetration is highly variable by the state in India, with the share of solar and wind in India's ten renewables-rich states (Tamil Nadu, Karnataka, Gujarat, Rajasthan, Andhra Pradesh, Maharashtra, Madhya Pradesh, Telangana, Punjab, and Kerala) significantly higher than the national average of 8.2%.
Rajasthan has the highest solar power generation potential of any state in the country, having recently surpassed Karnataka as the leading state in solar installations. As of February 2023, Rajasthan's operational solar power projects had produced roughly 16,405 MW of solar energy. The state plans to install 30,000 MW of solar energy capacity by 2025.
Gujarat has recently identified 100,000 hectares of wasteland in the Kutch district to build the world's largest renewable energy park with a 30,000 MW capacity. This project would be a mix of solar and wind power.
Karnataka, in India's southwest, is the third largest producer of solar energy in India, with a total installed solar power capacity of around 8110 MW, not including the 1,000 MW of projects in the queue.
Tamil Nadu Generation and Distribution Corporation are aiming to install solar power plants with a total capacity of 20,000 MW by 2030, requiring an investment of Rs. 70,000 crores. To further this goal, the Tamil Nadu government is developing district-level solar parks, with the first one to be established in Thiruvarur.
Telangana, India's southernmost state, ranks fifth in terms of solar power generation capacity, and second in terms of solar power capacity per unit area of landmass.
What are the business opportunities in the Indian solar energy sector?
Implementation support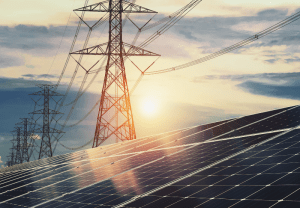 EPCs, site analysis, real estate- land acquisition
Technical advisor, engineering drawing and documentation
Policy advisors
System integrators
R&D and explorative
Solar-biomass-wind hybrid
Standards agencies: Specifying standards.
Research and development
Solar wind biomass hybrid.
Standardizing agencies: Specifying standards of products, machines, and designs.
How is the government supporting solar businesses in India?
The government has launched various initiatives to support the building up of India's solar capacity and to aid the adoption of solar power sources at subsidized costs.
These initiatives include:
The National Solar Mission launched in 2010 with the primary target of installing 100 GW of grid-connected solar power plants, ended in 2022. At the COP26 Climate Meet in Glasgow in November 2021, Prime Minister Narendra Modi and UK Prime Minister Boris Johnson jointly released the One Sun One World One Grid Declaration (OSOWOG). This declaration aims to create regional and international interconnected green grids, enabling renewable energy sharing across international borders. The OSOWOG has divided into three main phases: the first phase connected the Indian grid to the Middle East, South Asia, and Southeast Asia grids to develop a common grid for sharing solar energy and other renewable energy sources; the second phase connected the grid achieved in the first phase to the pool of renewable resources in Africa; and the third phase achieved true global interconnection, integrating as many countries as possible to create a single power grid of renewable energy accessible to all countries. In July 2021, to encourage rooftop solar (RTS) installation throughout the country, particularly in rural regions, the Ministry of New and Renewable Energy (MNRE) undertook Rooftop Solar Programme Phase II, which aims to install an RTS capacity of 4,000 MW in 2022 with a provision of subsidy. Up to 100 percent of foreign direct investment has been permitted under the automatic route. A Green Energy Corridor has been put in place to support the grid integration of large-scale renewable energy capacity addition. The MNRE is providing a 30 percent subsidy to most solar-powered items and has further extended its subsidy scheme to solar-powered cold storage. Renewable Energy Certificates (RECs) aim to provide an incentive to those who generate green power, providing financial aid for every unit of power generated by them.
The economy and the environment must go hand in hand for sustainable growth. We have paid the price for economic growth at the cost of the environment, resulting in irreversible damage. Global warming and escalating pollution levels have endangered our future. Climate change and natural calamities are becoming the new normal! This is the time to act before it escalates and impacts our future further.
Powernsun's Contribution Toward Solar Energy in India
PowernSun is committed to helping India transition to a more sustainable energy future by providing innovative solar energy solutions. Through its comprehensive range of products and services, PowernSun is helping to reduce India's dependence on fossil fuels and increase its reliance on renewable energy sources. From rooftop solar systems to large-scale solar parks, PowernSun is providing the technology and expertise needed to make solar energy a viable option for India. With its commitment to providing clean, reliable, and affordable energy, PowernSun is helping India move closer to its goal of becoming a global leader in renewable energy.
Renewable energy is the key to achieving economic growth without compromising the environment. Solar energy is a viable alternative to traditional sources like fossil fuels, which are becoming increasingly scarce and are not commercially or environmentally sustainable. With solar energy, we can reduce our dependence on fossil fuels and create a greener world without sacrificing economic growth. PowernSun is the solution to the challenge of providing electricity for economic growth without negatively impacting the environment. Solar energy is a renewable source of energy that is commercially and environmentally feasible, and it does not deplete like fossil fuels. With PowernSun, the world can enjoy economic growth while also becoming much more environmentally friendly.
Powernsun believes that economic growth and environmental protection must be balanced for sustainable development. We must prioritize the environment and take steps to reduce global warming and pollution levels before it is too late. We must also ensure that economic growth does not come at the cost of the environment and that our actions are in line with sustainable development. Only then can we ensure a safe and prosperous future for generations to come.
PowernSun is the perfect solution to the energy crisis. Our innovative solar energy solutions are designed to reduce carbon emissions and provide clean, renewable energy to businesses and households. Our products are cost-effective and easy to install, making them ideal for any environment. Investing in PowernSun is an investment in a greener future that will bring economic growth and sustainability. We are a leading provider of solar energy solutions that are reliable, cost-effective, and environmentally friendly. Our products are designed to meet the needs of both residential and commercial customers, providing clean energy that is both sustainable and affordable. Make the switch to PowernSun today and help create a better tomorrow!