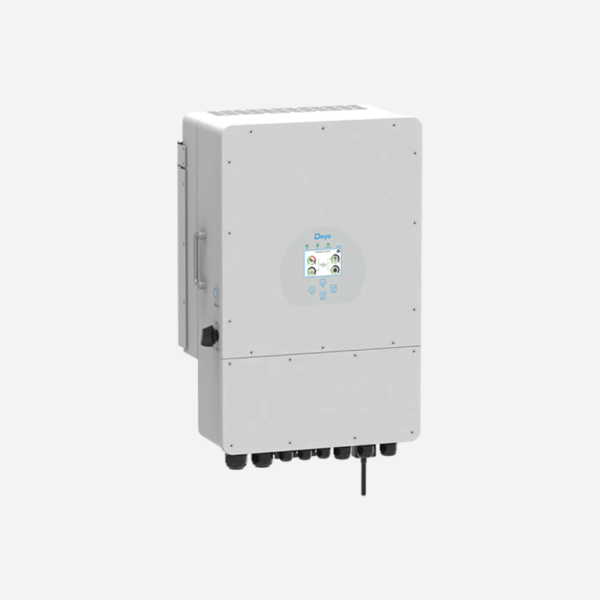 Deye 3-Phase Hybrid Inverter SUN-6K-SG04LP3-EU
7,661.00 د.إ
Supporting diesel generator for storing energy
Maximum output upto 50% rated power
Maximum A – 190
Maximum V – 40-60
Battery Type – Lead acid and Lithium ion
Description
Additional information
downloads
Description
Deye 3-Phase Hybrid Inverter SUN-6K-SG04LP3-EU
Renewable energy sources have gained significant popularity over the years, and solar power is one of the most widely adopted options. Solar energy offers a clean and sustainable solution to meet our electricity needs. To harness the maximum potential of solar energy, efficient inverters are crucial. In this article, we will explore the Deye 3-Phase Hybrid Inverter SUN-6K-SG04LP3-EU, its features, benefits, and applications.
Supporting diesel generator for storing energy
Maximum output upto 50% rated power
Maximum A – 190
Maximum V – 40-60
Battery Type – Lead and Lithium – Ion
Maximum DC input – 97.60%
Mppt Efficiency – 99.0%
Understanding Hybrid Inverters
Hybrid inverters combine the functionalities of both grid-tied and off-grid inverters. They allow the integration of solar panels, batteries, and the utility grid, providing flexibility and reliability to the solar power system. These inverters can efficiently manage the energy flow, ensuring optimal utilization of solar energy and offering backup power during grid outages.
Features of the Deye 3-Phase Hybrid Inverter SUN-6K-SG04LP3-EU
The Deye 3-Phase Hybrid Inverter SUN-6K-SG04LP3-EU comes packed with advanced features that make it an excellent choice for residential and commercial solar installations. Some notable features of this hybrid inverter include:
High Efficiency
The Deye 3-Phase Hybrid Inverter SUN-6K-SG04LP3-EU boasts high conversion efficiency, allowing you to make the most out of your solar panels. With its advanced MPPT (Maximum Power Point Tracking) technology, it maximizes the energy harvested from the solar array.
Dual MPPT Inputs
Equipped with dual MPPT inputs, this hybrid inverter can accommodate multiple solar arrays with different orientations or shading conditions. The dual MPPT feature optimizes energy production by allowing independent tracking of the maximum power point for each input.
Battery Integration
The SUN-6K-SG04LP3-EU supports the integration of energy storage systems, allowing you to store excess solar energy for later use. This feature enhances self-consumption and enables you to become more independent from the grid.
 Grid Interaction
The hybrid solar inverter enables seamless interaction with the utility grid. It can feed excess energy back into the grid, helping you earn credits or feed-in tariffs. Additionally, it provides backup power during grid outages, ensuring uninterrupted electricity supply.
Monitoring and Control
With built-in monitoring and remote control capabilities, the SUN-6K-SG04LP3-EU allows you to monitor the performance of your solar power system in real-time. You can conveniently access and control the inverter's settings through a user-friendly interface or a dedicated mobile app.
Installation and Configuration
Installing the Deye 3-Phase Hybrid Inverter SUN-6K-SG04LP3-EU is a straightforward process. However, it is recommended to hire a professional installer to ensure proper installation and compliance with safety standards. During the installation, the inverter needs to be connected to the solar panels, batteries, and the electrical grid. The installer will configure the inverter settings according to your specific requirements.
Benefits of the Deye 3-Phase Hybrid Inverter SUN-6K-SG04LP3-EU
The Deye 3-Phase Hybrid Inverter SUN-6K-SG04LP3-EU offers numerous benefits to solar power system owners. Here are some key advantages:
Cost Savings: By harnessing solar energy and optimizing self-consumption, the hybrid inverter helps reduce electricity bills significantly.
Energy Independence: With battery integration and backup power capabilities, you can become less reliant on the grid and have access to electricity even during outages.
Environmental Sustainability: Solar energy is clean and renewable, reducing carbon emissions and contributing to a greener planet.
Flexible Installation: The dual MPPT inputs and grid interaction features allow for flexible system design and compatibility with various solar installations.
Remote Monitoring: The inverter's monitoring and control capabilities enable you to track the performance of your solar power system remotely, ensuring optimal operation and identifying any issues promptly.
Applications and Use Cases
The Deye 3-Phase Hybrid Inverter SUN-6K-SG04LP3-EU is suitable for both residential and commercial solar installations. Some common applications include:
Residential Properties: Homeowners can benefit from the energy cost savings, backup power, and environmental sustainability offered by the hybrid inverter.
Commercial Buildings: The hybrid inverter can help businesses reduce electricity expenses and enhance their sustainability efforts.
Off-Grid Installations: In remote areas or locations without reliable grid access, the hybrid inverter combined with batteries enables independent power generation.
Maintenance and Troubleshooting
To ensure optimal performance of the Deye 3-Phase Hybrid Inverter SUN-6K-SG04LP3-EU, regular maintenance is recommended. Here are some essential maintenance tasks:
Periodic Inspections: Regularly inspect the inverter for any signs of damage, loose connections, or debris accumulation. Clean the exterior surfaces as needed.
Monitoring Performance: Continuously monitor the inverter's performance using the provided monitoring tools. Identify any deviations or abnormalities and take appropriate action.
Battery Maintenance: If the hybrid inverter is connected to batteries, follow the manufacturer's guidelines for battery maintenance, including periodic checks and ensuring proper charging and discharging cycles.
In case of any issues or malfunctions, consult the user manual or contact the manufacturer's customer support for troubleshooting guidance.
Conclusion
The Deye 3-Phase Hybrid Inverter SUN-6K-SG04LP3-EU is a reliable and efficient solution for solar power systems. With its advanced features, seamless integration, and remote monitoring capabilities, it offers numerous benefits to residential and commercial users. By harnessing the power of the sun and optimizing energy utilization, this hybrid inverter contributes to cost savings, energy independence, and environmental sustainability.