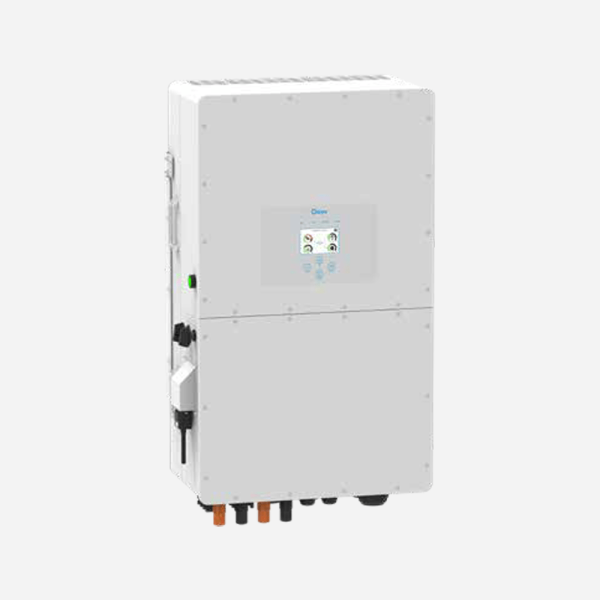 DEYE 20Kw 3 Phase Hybrid Inverter, SUN-20K-SG01HP3-EU
9,806.00 د.إ
The Deye 20kW SUN-20K-SG01HP3 -EU-AM2 has 2-MPPT, allows injection to the grid or zero injection, and is compatible with the latest lithium batteries on the market in high voltage. This three-phase hybrid inverter from Deye supports high-voltage lithium batteries to store surplus solar panels, take advantage of the energy accumulated at night and thus maximize savings on the electricity bill. The hybrid inverters of Deye have a smart load function or back up function that in addition to allowing to operate in isolation only with the battery also helps to maximize the performance of the installation, allowing to combine, solar panels, batteries and electrical network avoiding to the maximum the energy taken from the network and pouring surplus to the network only when the batteries are charged and there is no consumption in the house.
Description
Additional information
downloads
Description
SUN 5/6/8/10/12/15/20/25K-SG01HP3-EU-AM2 is brand new three phase hybrid inverter with High voltage battery 160-700V, ensuring system efficiency and less heat dissipation. With compact design and high-power density, this series supports 1.3 DC/AC ratio, saving device investment. It supports three phase unbalanced output, extending the application scenarios.
Additional information
| | |
| --- | --- |
| Weight | 30.5 kg |
| Dimensions | 23.7 × 40.8 × 63.8 cm |
| Power | 20 kW |
| Type | Hybrid |
| Phase | 3 |
| Warranty | 5 years |