What Is HPBC Solar Cell Technology?
powernsun
The world's leading solar technology manufacturer Longi recently released a new generation of photovoltaic modules of the Hi-MO family adding an innovative chapter to the high-efficiency products. This latest generation of solar modules is intended to offer high efficiency along with stunning aesthetics catering to distributed generation and rooftop applications.
What is HPBC Solar Cell Technology?
HPBC is Longi's new generation of high-efficiency solar cell technology with its exclusive front-side busbar-free design. This unique technology aims to significantly improve the light absorption properties and photoelectric conversion capabilities of the cells by fine-tuning their internal structure. This will finally increase the output power of the modules.
The interesting thing about this technology is its wafer type or base doping of wafers. Those solar modules with Hybrid Passivated Back Contact (HPBC) are capable of producing a greater amount of energy under the conditions of high temperature and low irradiation. Furthermore, these modules will be quite known for their excellent power degradation performance.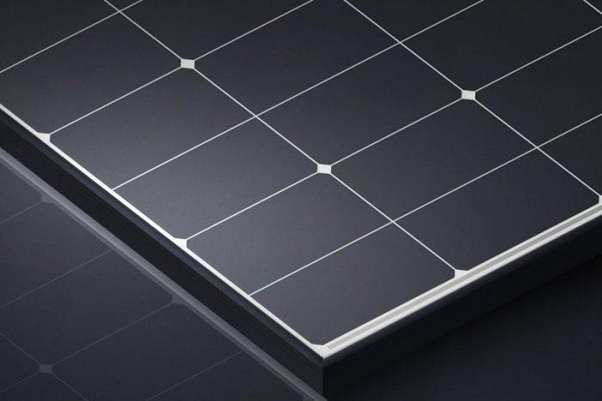 Scope of the launch of LONGi Hi-MO 6 solar modules
The major purpose behind launching this HPBC technology Hi-MO 6 solar module is that Longi believes that there is a huge demand for residential, industrial, and commercial photovoltaic (PV) solutions with high conversion efficiency. In addition, the need for solar modules with aesthetically pleasing characteristics and long-term reliability is on the rise. This Hi-MO6, the first module of Hybrid Passivated Back Contact (HPBC) technology with a one-line soldering structure could efficiently address the increased security and intelligence needs of the global distributed consumer market.
These modules with improved resistance to cracking are brilliant outcomes of the technological innovation and also they provide the option for improved safety and optimization by pre-installing the Smart Optimizer.
What are the characteristics of LONGi Hi-MO 6 solar modules?
Hi-MO 6 has carved its unique name as the most reliable photovoltaic module out on the solar market. This technology from Longi is yet again a strong step towards fostering energy equity adding benchmarks to its high-quality technical innovation.
The Longi Hi-MO 6 is an innovative release based on efficient HPBC cell technology and is divided into 4 series:
Explorer
Scientist
Guardian 
Artist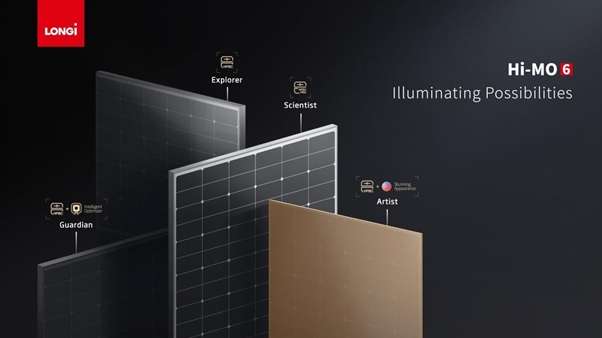 Among the above series, the basic version Explorer comes with an efficiency of 25%, while the Scientist, Hi-MO 6 pro version possesses a module efficiency of 23.2% and a cell efficiency of 25.3%.
Let us dive deep into the outstanding characteristics of Hi-MO 6 solar modules.
A busbar-free front and a lean and simplified appearance accentuate the uniqueness of the HPBC cell, the Hi-MO 6 series.
The sleek and aesthetic appeal of the solar modules brings the minimized style of modern industrial design and helps in redefining the aesthetics of PV modules. The discerning aesthetics of these cells make them the perfect fit for a wide variety of applications.
The improved aesthetic features of the cells ensure meeting the key demand of appealing look for residential applications.
Increased power generation
Hi-MO 6 modules from Longi have demonstrated their potential of improved power generation of up to 10% when compared with PERC products. As of now, the commercial conversion efficiency of LONGi's HPBC cell has proven to exceed 25%.
The higher light absorption capacity of the cells increases the output efficiency of modules and ensures significant power gain even in high temperature, low irradiation, and oblique light environments.
These modules have a record module efficiency of up to 22.8%.
 Hi-MO 6 modules come with excellent long-term stability. Fulfilling the IEC values and meeting various test standards make sure to maximize product reliability. The recognition from PVEL and RETC remains strong proof of the reliability of the product. In addition, they are backed by a 15-year product warranty and 25 25-year power warranty.
These HPBC modules come in the standard size M10 (182 mm) and are available in 54C, 72C, and 66C. The unique high-efficiency HPBC cell structure from Longi sets a new standard of easy and exclusive installation with its four series of Explorer, Scientist, Guardian, and Artist.
Hi-MO 6 modules deploy back contact soldering technology for improved resistance to module cracking. The modules also offer enriched safety and optimization with their pre-installing the Smart Optimizer option. This prefabricated intelligent optimizer can perform active safety and intelligent optimization features.
This intelligent optimization stands for real-time optimization to ensure the maximum system power output by detecting if the power generation is blocked, thus maximizing the return on investment of users.
Participate in the new energy revolution with Powernsun
As an Authorized Distributor of Longi in EMEA, Powernsun is here with you in powering your needs and driving you into a green world for future generations. We are obliged to maintain our leadership in supplying high-quality, highly efficient, and innovative panels that assure you an excellent power output.
Thanks to HPBC technology from Longi, now we can ensure that our clients get the maximum output and optimal performance in any weather conditions. Let Powernsun help in propelling your clean energy transformation with ultra-high performance Hi-MO 6 modules from Longi.