Off Grid Or Battery Backup – Explore The Right Option For Your Energy Independence
powernsun
We could hear from most that power outages are a big concern and going independent in terms of electricity is the most discussed topic now. The dropping solar energy prices are certainly attention-grabbing and motivate many to switch to solar. Considering the option of going solar, some of the popular choices are off-grid and battery backup systems. But, what can be the right option for you? Let us go deep into both choices in this article.
Installing an off-grid system is considered the best alternative power source for rural areas. An off-grid system indicates that your solar system works independently and you are not connected to any power system of the utility. For those worried about the hikes on energy prices and thinking of energy independence, generating your own power through an off-grid system, without relying on electricity is the best decision. These systems are not connected in any way with the National grid, presenting a completely independent energy network.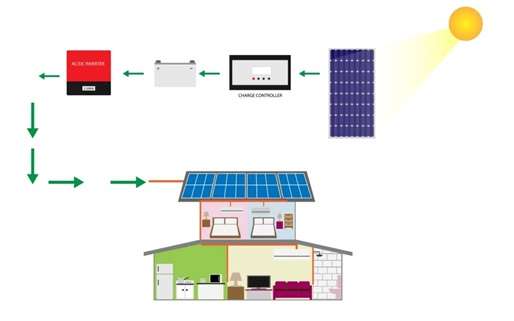 Bad weather conditions can reduce the dependency on grid power. You probably need a backup generator to address such challenges.
It can't be a great choice for average homeowners as it is an expensive one. If you are looking to power an entire home, you will require more panels and larger capacity batteries, representing higher costs.
Typically, off-grid systems are suitable for remote areas meaning that they are far from the local electricity grid. Hence, it must be designed by experts to fulfill the demands.
You are powered by an independent and 100% green energy.
It serves as the best choice if you are facing frequent power outages.
Perfectly facilitates rural and remote areas for sustainable energy generation.
No grid connection. It means you are totally protected from the risk of power outages.
It is the most eco-friendly setup and as you are not connected to the grid, you can minimize the carbon footprint.
Compared with the expensive off-grid system, the battery backup system can be a cost-effective choice if you are relying on the grid, and still expecting protection from power outages. Generally, backup systems are connected to the grid; however, they feature a battery backup and take care of during power outages. The battery backup system will run on electricity and get charged by the connection to the solar system.
This battery backup system stores the excess energy and protects you if there are any interruptions such as grid failure, or power outages, and gives you independence from the utility provider. If the grid goes down, the battery system will draw the energy stored in the batteries and power your requirements.
Stored energy is withdrawn from batteries and thus saves money.
Helps in increasing your solar consumption.
Requires low maintenance requirements .
Noiseless operation.
Increases your self-reliance on your solar system.
Continued reliable power, irrespective of weather or power failures or grid down.
The cost of energy storage is high which may add to your solar system costs.
Higher upfront cost
The payback period generally goes beyond the warranty period of the battery.
Which choice makes sense for you?
Deciding on which option suits you needs some crucial considerations such as your specific requirements, cost, maintenance, and more. To pick the most relevant choice for you, you should get deep into the differences between both. Off-grid systems are great for entire self-sustaining. They are ideal to offer power when the grid goes down for critical loads. However, these systems are complex and expensive to install.
Battery backup is an affordable option compared with off-grid system setup and they can continue supplying the power to necessary appliances when there is a power outage. As energy resiliency is assured, you can have peace of mind with a battery backup system.
Being prepared for power outages and dealing effectively with raising energy prices is very important. Thus it becomes the most compelling reason to go energy independent and choosing an effective choice is crucial. Weigh the pros and cons of both off-grid and battery choices and make an informed decision.
Thinking of getting a battery backup for your needs?
Powernsun is with you! If you think of adding a battery to your existing system, we are your one-stop solution. Our experts can analyze your system needs and recommend the best batteries. Now your energy storage is more practical and very affordable with major brands such as Pylontech, Dyness, Sungrow, Deye, Shangai electric and more.
Regardless of your solar system needs, Powernsun's extensive expertise is along with you in offering the best range of solar products from leading brands across the world.